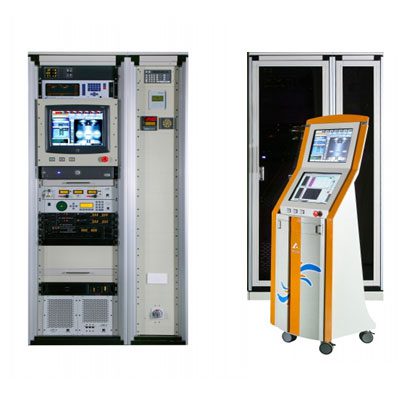 Complete Turn-Key Automation Controller System
Retrofit to Most Any Coating Systems
Trouble Free Installation and Training
Optional Kiosk Module
Description
Ever fast changes in the thin film coating industries technologically and economically, companies are seeking solutions to their existing system for its replacement of obsolete components, unreplaceable software, unavailable hardware, and even nonexisting service supports from their original system builder.
Tecport recognizes such frustrations and offers customers with flexible and simple plug and play automation control system of any existing coating system.
Tecport built dynamic control system where all its components are with the latest technology and readily available off the shelf items from industrial leaders with worldwide service support. This dynamic control system allows easy integration of equipment provided by Leybold, Balzers, Satis, Davis & Wilder, Eaton, CHA, and many more. The software and hardware infrastructures are flexible and modular, any subsystems such as ion source, electron beam source, sputter source, and many others manufactured by any companies can be integrated easily.
Tecport also offers subsystems upgrades such as substrate heater assembly, substrate fixture rotation system, pumping packages, ion sources, electron beam sources, and much more.
Present us with your problem, and we will offer the most adequate solution.
Features
Simple plug and play controller system to any type of coating system
Inexpensive retrofit and upgrade options
Equipped with the latest instruments and components
Flexible and modular hardware and software design allows easy upgrade for any additional hardware, controller, and functions
Off the shelf components
Fully automated process control
Software
Symphony OPUS Operation Software
Window based user's friendly software, OPUS, is provided to run manual or fully automatic operation
Automatic pump down, Automatic system shutdown, Automatic Valve Control, Automatic Process Control
All the safety interlocks are preprogrammed for operation safety
Easy to use touch screen operation interface
Extensive data logging and analysis capabilities
On-the-fly recipe change
Trend tracking
Sophisticated recipe building tools
Enhanced diagnostics
Custom system maintenance schedule – advanced warnings of all needed maintenance and service
Automatic report generation
Security features allow commands to be password protected
Security Rights: Operator, On-line Edit, Recipe, System, Admin
Optical monitor links
Remote Access: remote access from computer to computer monitoring and navigating, and remote access for service monitoring
Refer to Symphony OPUS for more detail information (create the link to Symphony OPUS page)
Optional Upgrades
Stand Alone Kiosk Module
The kiosk allows the operator to run the system without touching the instrument rack, and offers greater flexibility.
Two 17" Touch Screens
Keyboard and Track Ball
Frame with Roller
Berkin Omniview 2 Port KVM Switches
Flex Cable Duct System
EMS Switch
Optical Monitoring System
Intellevation Optical Monitoring System including Test Glass Changer
Source Module – 20 watts Tungsten Halogen Lamp with chopper wheel and motor for the modulation of the light. Equipped with signal/dark/reference/dark phases using reference path via optical fiber.
Detector Module – IL 550 series continuous waveband coverage capable handling VIS to IR wavelength. Monochromator for wavelength selection under complete software control. Equipped with filters for suppression of higher orders, narrow bandpass calibrated filter, Si/InGaAs dual detector, analogue to digital converter for high electric noise immunity, and synchronous detection of reference and signal paths where reference path via optical fiber.
Software – FilmMaker and FilmDirector: database interface for film data input, test glass sequencing, and instrument set up. Modeling of the output curve, process simulation for offline optimization of process, run data acquisition and export to FilmReviewer to review actual process cut, and optimization of the FilmMaker project. Fully automated control of auto ranging and automatic offset of output curve, automatic termination of turning point and non-quarter wave films. It also provides a wide range of algorithms for film termination in the presence of process noise including linear and quadratic filter options.
Depends on availability of flanges, test glass changer can be back reflection monitoring, front reflection monitoring or transmission monitoring module with either drop chip changer or carousel chip changer.
Complete Interface with thickness controller, Tecport Symphony OPUS operation software, and existing system's hardware.
Water Distribution Manifold
Customized water distribution manifold can be provided upon request, equipped with all the necessary lines, flow meters and switches, pressure gauges, by-pass line, valves, and electronic connections.
Air Distribution Manifold
Customized air manifold can be provided upon request.
Key Components
Thickness Controller System
The latest vacuum gauge controller from Brooks Automation or Inficon.
19″ Rack Mount Cabinet
Industrial 19" Rack Mount Cabinet.
The cabinet is mounted on the steel frame which stands onto strong rubber roller and stopper for easy maneuver and handling.
Complete separation of power module and control module within the rack system to eliminate any cross talks and noises.
Power Distributions
Electrical Switches / Magnetic Switches
Relays / Converters
Signal Processors
Tower Lamps
EMS / Interlocks
Sensors
UL/CE Wires + Wirings
All components are CE compliance and off-the-shelf products.
Uninterrupted Power Supply (UPS)
2200VA Rating Uninterrupted Power Supply for all the electronic components; PLC, Vacuum Gauging Controller, Thickness Controller, Computer, Touch Screen Monitors, and etc.
True On-Line double conversion technology with continuous voltage and frequency regulation.
Uninterrupted power for symphony electronics for at least 20 minutes.
Computer
Base Unit: 19″ Rack Mounted Quad Core Xeon Processor
Hard Drive: SAS, 2.5" with Raid 5 Capability
Floppy Disk Drive: 1.44MB Floppy Drive
CD-ROM or DVD ROM: 24X IDE CD-RW/DVD ROM Drive
Operating System: Windows Professional
2ea Ethernet Cards
Touch Screen
17″ TFT Active Matrix Color LCD Touch Screen
Programmable Logic Controller (PLC)
1756 L61 Process w/ 2MB Memory
Phoenix Contact I/O Modules
32 Points Analog Inputs – Current/Voltage
24 Points Analog Outputs – Current/Voltage
96 Points Digital Inputs
128 Points Digital Outputs
Ethernet TCP/IP Module
Power Supply
Complete I/O to accommodate all the necessary control of existing system I/O
Connections
Complete On-Site Connection between existing hardware to Tecport Symphony OPUS Controller
Existing Hardware Connections
Analog In/Out –Ion Source (or Plasma), Electron Beam Sources, Thermal Resistance Sources, Heater Controller, Substrate Rotation System, Crucible Drives, Temperature
Digital In/Out – Crucible Drive Status, Limit Switches, Pumps Status Signals, Pressure Controller, Water Flow Switches, Vacuum Valve Switches, Interlocks, Electron Beam HV
RS232 Communication – Thickness Controller, Vacuum Gauge Controller, Temperature Controller
Installation
Complete On-Site Installation
Remove all the existing connections from existing system to existing controller
Installing Tecport Controller
Relocating all subsystems from existing controller to Tecport controller – electron beam source power suppliers and controllers, thermal resistance source power suppliers
Testing, Commissioning and Training
Complete On-Site Testing and Commissioning
Testing all subsystems operation
Testing manual operation of system
Testing fully automated operation of system
Testing with actual processes
Complete training on controller architect
Complete training on PLC ladder logic
Complete training on Symphony OPUS operation software
Documentation
Complete system documentation
Operation Software Manual
Electrical Schematics
I/O Lists
PLC Ladder Diagram
Parts and Suppliers List